War and Scholarship

By Viacheslav Lytvynenko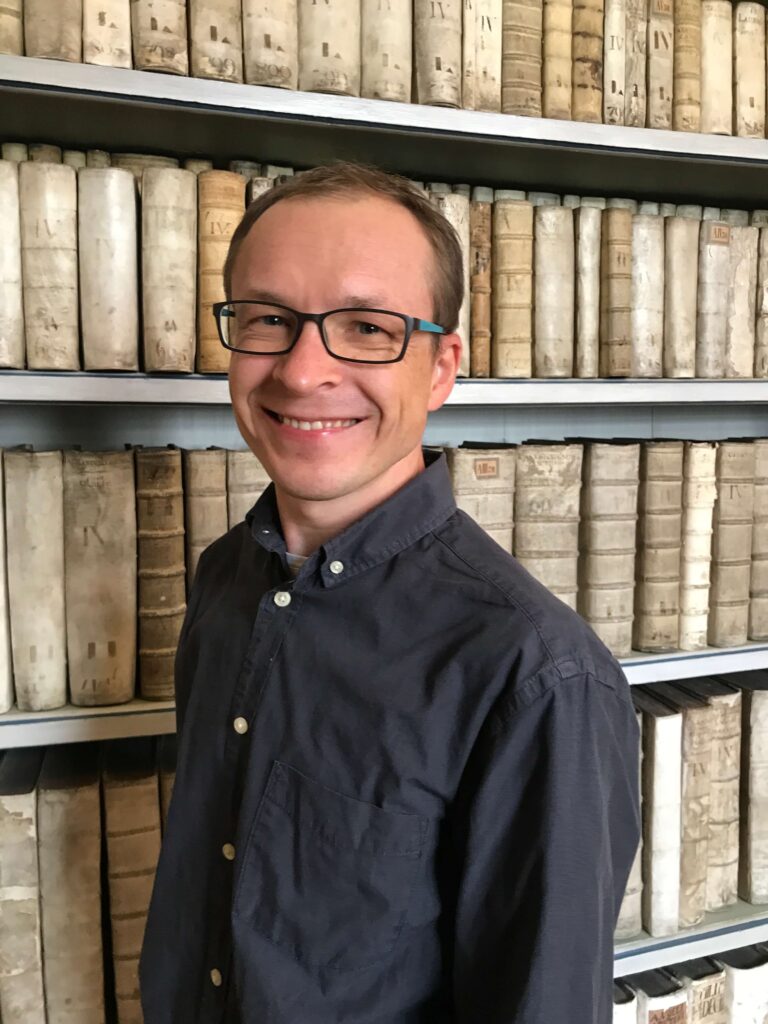 I am a Ukrainian based in Prague, Czech Republic, where I have served as a Global Scholars missionary since 2014. The war in Ukraine has had an enormous impact on my life as a scholar this year, and I was asked to share a brief testimony about this.
Long before the current war in Ukraine, a smaller Russian invasion in the east and south of Ukraine began in the summer of 2014, just as I was about to finish my Ph.D. studies at Charles University, Prague. By then I already had my dissertation completed and was preparing for the final exams and defense. In the meantime, my wife and I were also preparing to go back to Ukraine, where I was supposed to resume my teaching position at Donetsk Christian University.
All this never happened because of the war, which finally led to the Russian occupation of Crimea in the south. Donetsk Christian University was occupied almost immediately. The faculty and staff were given three days to pack and leave, though in actuality they had only one day for everything. The school was turned into a military base with artillery and tanks, and they used our storehouses to hold Ukrainian prisoners of war.
Those events completely changed my life and put our family on a new path that year. With no place to go back to in Ukraine, we decided to stay in the Czech Republic. Miraculously, the Lord provided a post-doc position at Charles University, and after finishing it, I have been continuously employed as a research professor.
The current Russian attack against Ukraine caught us unprepared again. This time, we had to evacuate many of our extended family and friends from eastern Ukraine to other places, including the Czech Republic. The first two months were the hardest. My mother-in-law died of cancer and was buried as the air raid sirens were wailing in an almost empty city. My brother-in-law died defending Mariupol. Many of our relatives moved to (somewhat) safer places in central and western Ukraine, while most of my cousins and uncles stayed to fight.
My academic work came to a standstill as totally new priorities appeared, and only this fall could I slowly resume my work. It feels strange to write and teach while your countrymen are at war, and I had to learn how to do my work with very different motivations. The war made me realize once again that ultimately we do what we do because we love God and want to bring Him into every area of our life and work. In a very practical way, I have sought to do that at my desk and in the classroom, as well as in ministering to the Ukrainian refugees in the Czech towns and villages across the country.
On the academic level, two episodes have affected me deeply this year. One was the situation with my colleague from Moscow, who co-authored a book with me on the Trinitarian controversy in sixteenth-century Russia. Brill has reviewed and approved this work for publication, but the sad part of this project is that my co-author has taken an anti-Ukrainian position and supported the war. It was difficult for me to accept, but I had to learn to live with that situation. Another dramatic episode happened in early spring when several Russian manuscript depositories blocked my access to the manuscript material I had been using for my research projects since 2015. They called it an "academic sanction" and said that they were no longer willing to work with Western researchers. But when those doors closed, God suddenly opened a window that should allow me to access what I need in a different and much easier way!
As I think back about all that has happened to me this year, perhaps the major thing I have learned (and am still learning) is that God is in control even when nothing seems to show it! Soli Deo Gloria!
Cyber Security and You
By Society IT
(IT@SocietyofChrisitanScholars.org)

The Society's IT department wants to equip you to understand your role in protecting yourself online. Especially during the Christmas season when life gets busier, take the time to stop, look, and think. 
When most people think of online security, they usually think of seals of approval, the word "Secure" on a portal or form, or the padlock next to the address bar. Although these could be indicators of security being implemented, security is much more than these words or images, and even more than specific protocols that may be put in place by website administrators. 
Security means freedom from danger, threat, fear, or anxiety and includes procedures to follow to ensure safety and stability. As a subset of security, cybersecurity is protection against unauthorized usage of electronic data. This is usually the primary focus of online security. Although online service providers should definitely focus on procedures and protocols to ensure that electronic data are accessed in an authorized way, these procedures and protocols are only baseline protections. 
Even with the strongest lines of defense that online service providers have to offer, systems can still become compromised, accounts can still be hacked, and information can be leaked. Despite the best that technology has to offer, the weakest links are the people who utilize online systems every day (all of us). Hackers attack by taking advantage of our trust to get details that pass the system's authorization defenses. As a result, the system trusts attackers as if they were legitimately using the service.
When a hacker tries to gain your trust and attempts to make you take an action or divulge information you normally wouldn't, they are performing an attack called social engineering. All communication is built on various levels of trust, and with the birth of online communication, we have to redefine how we ensure that we aren't falling for social engineering attacks. Trust usually starts in an in-person conversation with identifying the person, understanding your connection (relation) to them, and then providing information, potentially with some level of confidentiality (as indicated by the topic or the volume and manner in which you speak). In online communication, these seemingly easy tasks become very difficult hurdles. 
Here are some steps you can take to protect yourself online:
Stop: Don't be quick to respond to online communications.
Look: 
Identity – Do you know this person? Are you sure the email, social profile, phone/WhatsApp number, etc. are from the person you believe you are talking to? Is there any way to verify this? Does the account match previous communications? 

Connection/relation – If you are sure you know the identity of the online presence, is the person representing their connection to you appropriately?

Timing – Is the communication coming at an expected time? For example, is this person usually awake or working during this time? 
Think:
Type of conversation –  What is the nature of the conversation? Are they asking you to do something?

Method – Is the communication coming in an expected way? Does this person usually contact you in this way, or is it through a different account, platform or method from normal?

Considering confidentiality – Based on the identity, connection, and topic of conversation, should you consider the information shared to be confidential? Will they consider the confidentiality of the conversation at the same level as you do? Does your online communication method reflect the amount of confidentiality required for these topics? (Should you share this information in a public post, by a direct message, or perhaps not on this platform of communication at all?) Conversely, are they asking you to keep something confidential which may actually need to be shared?
Be sure to take the time to stop, look, and think. Doing so will help you identify more easily if your trust is validated.
EBSCO Database Survey Results
Many thanks to the 55 Society members who participated in the 2022 EBSCO Database survey, with 56% indicating that they use the database at least 1 to 2 times per month. The top three databases in terms of use were (1) the Religion and Philosophy Collection (62%), (2) the Social Sciences Collection (46%), and (3) Leadership and Management (42%). The top three requested databases were (1) APA Psycinfo (35%), (2) STM Database (26%), and (3) Business Source (22%). 
We will combine these survey results with usage data from EBSCO and budgetary constraints to determine the slate of EBSCO databases for the next calendar year, which we'll announce in January 2023. Thank you again to all who participated!
Calling All Authors! The Society is looking for interested authors who would like to write a 6,000- to 8,000-word study guide related to one of the following topics: (1) Integration of Faith and Scholarship, (2) Spiritual Formation, (3) Interacting with Cultures, (4) Pursuing Vocational Excellence, or (5) Relational and Leader Development. These study guides are designed to facilitate personal growth, for small-group conversations, or even as the basis for a workshop. They're oriented to Christian academics who desire to have redemptive influence among students, colleagues, and disciplines in pluralistic universities.
If you're interested in writing a study guide for the Society, contact Dr. Stephen Garrett (sgarrett@global-scholars.org) and he will provide you with the study guide prospectus and an author proposal guide. If the proposal is accepted by the editorial team, remuneration between $600 and $800 USD is available.
Annual Global Scholars Grant is Open!
The Annual Global Scholars Grant (2023) is now open at our Member Site. The application can be submitted until 1 February 2023. The Grant Evaluation Committee will administer several grants between $500 and $2,000 USD! The purpose of these grants is to help Society members become better equipped to fulfill their calling in academia.
Call for Book Reviewers
If you would like to write a 1,000-word review on the following book, please contact Dr. Stephen Garrett at sgarrett@global-scholars.org for further details. Reviews will be highlighted and published in a special section of our Society member site.
Reminder that Full members can view past webinars. In case you missed the webinar about Václav Havel, below is a recommendation and a reflection on this webinar:
"Last month, I was very pleased to watch the webinar about Václav Havel (1936-2011)  and his influential essay, 'The Power of the Powerless.' Havel was the former President of Czechoslovakia, as well as a noted playwright and dissident. The webinar was hosted by Professor Joshua Hayden, who teaches at the Anglo-American University in Prague and a researcher of Havel, and Monika MacDonagh-Pajerová, who was an advisor to Havel and a dissident. I highly recommend this webinar, for it is quite informative and inspirational." – Dr. Richard Smith
 "As someone who grew up under a communist regime and society, and later in the church in a post-totalitarian atmosphere, I am very thankful for this webinar..  Havel's message seems still very relevant in the 21st century. There are several aspects and questions to consider: How should we live in truth in the midst of lies, hoaxes and post-truth society? How should we live as persecuted Christians in many countries–as  "powerless" individuals and communities? How can we witness to truth as Christian scholars, in academia and in society?" – Dr. Peter Cimala (Europe Regional Representative)
How would you answer these questions Dr. Cimala has posed? If you would like to share some of your answers, please send them to the Society's Acquisitions Editor, Jeff Foster, at jfoster@SocietyofChristianScholars.org. Dr. Cimala will offer his own answers in a future edition of the Addenda.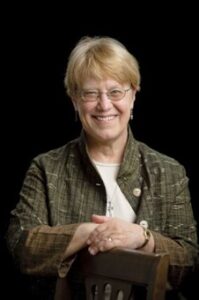 Configuring Institutional Change Using Social Discernment by Elizabeth Liebert – Thursday, 19 January 2023 at 1400 UTC
Does it feel as if you are pushing water uphill? That your institution (parish, university, committee, or community) will never budge? You may see that institutional change is needed, whether due to inequities, ineffectiveness, or ineptitude, but you are not sure where to begin or how to assess what needs to be done to bring about such change.\
On Thursday, 19 January 2023 at 1400 UTC, Dr Elizabeth Liebert will illustrate how systems work to preserve the status quo and will demonstrate how the "Social Discernment Cycle" can assist in overcoming this resistance and discerning the steps to institutional change. Dr Liebert, Professor Emerita of San Francisco Theological Seminary, member of the Doctoral Faculty at Graduate Theological Union, and a member of the Sisters of the Holy Names of Jesus and Mary, has taught for well over three decades on topics such as culture and mission, spiritual practices, and discernment. Her current research centers on aspects of the academic discipline of Christian spirituality, and in particular on the practice of discernment, both personally and in institutional settings.
In preparation for the webinar, you can review the introduction to Dr. Liebert's book, The Soul of Discernment: A Spiritual Practice for Communities and Institutions (Westminster John Knox, 2015).
Don't miss this insightful and practical webinar. Register today!
*This webinar is a precursor to a possible workshop under consideration for summer 2023, depending upon how many Society members are interested. A survey of interest will be taken during the webinar.

Immediately following the webinar, you will have the opportunity to connect and catch up with colleagues from around the world. So plan to stay on the call for another 30 minutes or so if possible.
Note: Be sure to explore the Society Webinars Page for upcoming webinars including third-party webinars that are often added with short notice and for updated presenters and topics that may be helpful in equipping you to bring the gospel to bear in your university context.