Society of Christian Scholars (SCS) Grant Awardee Impact Story
By Jackson Akor
I am a faculty member in the undergraduate Entrepreneurship Program at the African Leadership University (ALU) Rwanda. I support the learning journey of students as they become equipped as entrepreneurial leaders for the African continent and the rest of the world. My teaching and research interests cut across small and medium-scale enterprise (SME) development, including new venture management, social entrepreneurship, youth and women's entrepreneurship and circular business models. 
 In 2021, I received a Society of Christian Scholars grant to conduct a research project on youth entrepreneurship development in Nigeria, with a focus on assessing the mentorship impact of Christian faith-based institutions on youth-led enterprise development. Considering the premium placed on youth entrepreneurship development by various institutions, Christian institutions are not excluded from the forefront of youth entrepreneurship development.  The research project primarily seeks to analyse how Christian institutions in Nigeria have provided mentorship support towards youth enterprise development for job creation and community transformation. Insights from this research component will guide the development of a mentorship platform for young redemptive entrepreneurs who are motivated by their faith to transform their communities through high-impact venture creation that creates jobs and solves pressing challenges in their communities.
Through the research grant, the following three major components of the project are being achieved in phases: 
        Mapping the existing entrepreneurship support ecosystem in Christian groups across Nigeria. 

        Publication of a research report in a relevant journal. 

        Building a web portal that connects young redemptive entrepreneurs to a network of mentors.  
The extensive literature review has provided insights on the state of the art in Christian institutions' support for youth entrepreneurship in Nigeria, Africa and around the world. The mapping of the existing entrepreneurship ecosystem in Nigeria is to be completed this month. This involves collecting data from Christian institutions across the six geo-political zones of Nigeria. Such countrywide data collection for a project of this magnitude is possible only thanks to the research grant. For the purpose of enhancing the visibility of the research project, a project website has been developed. 
In view of the extensive scope of the research project, I am collaborating with fellow Christian scholars in my university and research network. These individuals have expertise in some aspects of the research project. We are having valuable conversations around the redemptive influence we must exert as Christian scholars. Most recently, Sebastian Văduva's presentation at the Society's March 2022 webinar on the mission of teaching business has provided insights into the missional influence that I can exert in my community by teaching and conducting research in entrepreneurship and business. This and many more resources made available by the Society of Christian Scholars have given me direction regarding my calling as a missional academic in the field of entrepreneurship. 
Together with my team of collaborators, we look forward to publishing the findings of this research project. 

Jackson Akor
(jackson@mentorshipsupport.org)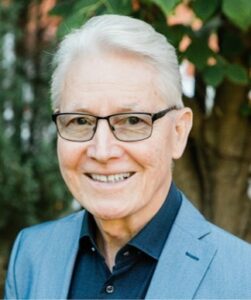 'Singing: A Catalyst That Cured to a Talent That Inspired'   
by Granville Pillar
Reading my life story is like reading a tale of the 'impossible'. In human terms, how could an uneducated agnostic, afflicted with a speech disorder aspire to become a university professor serving in God's mission in academia to make a redemptive influence in the lives of students?
On Thursday, 21 April 2022 at 1400 UTC, Dr Granville Pillar will take us on a journey of how God, in his providence, used the catalyst that cured his speech affliction, to a be a talent that inspired him to teach philology in the universities of Hungary, Romania, and Ukraine.
Prior to his academic journey, he was an electrician and band singer in Northern Ireland, club entertainer in England and southern Africa, electrical engineer in Germany, and language teacher and church minister in Australia. He enjoys singing, jogging, and walking his dog, and is involved in church ministry through music and preaching. He is married to Ibolya, has two adult children and five grandchildren and lives in Hungary. Be sure to listen to his music on his YouTube channel or read the introduction to his latest book, From Doing It My Way to Following His Way (2021).
Join us for this exciting webinar to hear how what seems impossible in the eyes of man is possible with God.
NB: Immediately following the webinar, you will have the opportunity to connect and catch up with colleagues from around the world. So plan to stay on the call for another 20 minutes or so if you would like.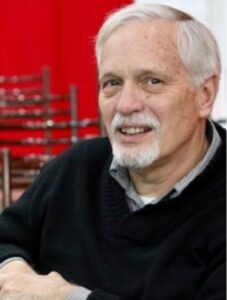 Such a Mind as This
by Richard Smith
Our intellectual context is very complicated. There are competing pedagogues, divergent epistemological agendas, and flawed participants. The mind is a war zone. Many do not recognize how sin impacts thinking or how to love God with the mind.
On Thursday, 19 May 2022 at 1400 UTC, Dr. Richard Smith, who served in Prague, Czech Republic with Global Scholars, co-founded the Komensky Institute, and now serves in Buenos Aires, Argentina as Senior Advisor for Global Scholars, will discuss the life of the mind based on the Old Testament. He promotes a spirituality that puts thinking in its proper place through mental piety, wisdom, and intellectual development.
In preparation for the webinar, be sure to read the 'Introduction' to Such a Mind as This (Wipf & Stock, 2022).
NB: Immediately following the webinar, you will have the opportunity to connect and catch up with colleagues from around the world. So plan to stay on the call for another 20 minutes or so if you would like.
Be sure to check out the Webinars Page for third-party webinars that are often added with short notice and for updated presenters and topics that may be helpful in equipping you to bring the gospel to bear in your university context.
'Learning in Wartime'
When faced with the atrocities of war and the ensuing crisis, many might think that learning and education are a luxury or something meant for leisure time. C. S. Lewis' essay "Learning in War Time" reminds us that as Christians, we are already at war and have been so since the beginning. We would do well to remember (1) to remain focused on our vocation as a way to lead others to God's divine reality, (2) to work from moment to moment as unto the Lord, and (3) to recall that death may remind us of our mortality but has been conquered by Christ in the resurrection.
For more resources like this, be sure to visit the Society's Library holdings!

Meet Our Partner: Consortium of Christian Study Centers 
The mission of the Consortium of Christian Study Centers is to advance the growth and effectiveness of such centers at universities and colleges around the world. Currently, most of our work involves offering support services for existing study centers. At our annual meeting, we provide education, training, and sharing of best practices for member study center staffs, boards, and faculty. After meeting virtually in 2020 and 2021, we will meet in person again this year.
The Consortium uses communication media to keep study center personnel connected to one another as well. A monthly "News and Events" email goes out from the Consortium office, letting readers know of important news around the world of study centers. Another important electronic service is our Prayer Initiative, which encourages regular prayer by and for each other in whatever context the study center members desire. 
In addition to over 30 member centers, the Consortium now has 30 partner organizations that provide products and support to help study centers serve students and others on their campuses.
As time permits, we also facilitate the founding of new Christian study centers and seek to promote the Christian study center movement to a broad public audience. We do not plant new centers ourselves, but we spend significant time responding to people who want help in starting one. We will not be surprised if, in the anticipated post-COVID era, we see an increase in requests for the consulting and advising services we are uniquely positioned to provide.
Publishing Opportunity!
Even before the current crises, technology was threatening to create a "useless class" out of older workers and the uneducated young. With the COVID-19 crises, the war in Ukraine, the "great resignation" and other global disruptions, we believe job creation will become the major socio-economic challenge of our time.
The Journal of Ethics in Entrepreneurship and Technology is inviting Society members to participate in the academic paper competition "Creating Jobs for the NOT So 'Useless' Generation," which will take place in fall 2022. The top three academic papers will be rewarded with $5,000, $3,000, and $2,000, respectively. We invite global scholars and practitioners to apply their knowledge and expertise in solving this major crisis.