Wanted: Asia Regional Representative
The Society seeks a full-time Asia Regional Representative who will contribute to our local and global movement by partnering with Asian scholars to develop and implement strategies to mutually equip one another in academia for Christ's glory. View more details here.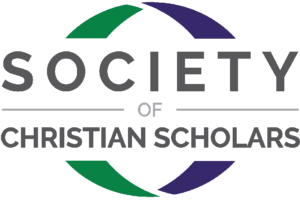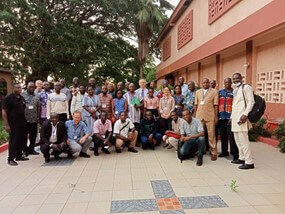 Africa Chapter of the Society Holds Maiden Conference
Have you ever embarked on a journey knowing that you didn't have the resources needed, and that God would have to guide you every step of the way? That was my situation when I arrived in Banjul, The Gambia, two months in advance to prepare for the first-ever conference of the Society of Christian Scholars in Africa, held on 4-8 July. 
As I stood on the grounds of the Shalom Retreat Center (a place run by Catholic nuns), overlooking the Atlantic Ocean, I felt that this was the right place and the right time for our conference. But there were many reasons for doubt. 
Banjul is not centrally located, the air fares from most African countries were exorbitant, and we had only two or three members located there. Moreover, we had promised everyone free accommodation, food and local transport but were not sure where the funds would come from. We would also need bilingual translation to serve both English-speaking and French-speaking participants, and COVID-19 was still a threat. Needless to say, our prayers were intense.
Then something shifted. An organization that had not heard about our conference offered a grant specifically designated for Africa. We had not applied for any grant that year, neither were we expecting any. God works in mysterious ways! I was already in The Gambia for the conference when the funds reached us. We ended up hosting 41 participants from nine African countries for a fully bilingual event that combined intellectual inquiry, spiritual formation, and social interaction.
Intellectual Inquiry: Professor Danny McCain's keynote address considered Luke 6:40: "The student is not above the teacher, but everyone who is fully trained will be like his teacher." Professor McCain focused on the phrase "fully trained" and provided the requisite philosophical framework for Christian scholarship. We were also challenged to go beyond integration to seek hidden truths in our disciplines. Dr. Heather Beem's message, "Building Teacher Capacity," bridged theory and practice. There were panel discussions on the nexus between faith and scholarship, plus a session on writing and publishing, led by Professor Ahmed Kora and Dr. Stephen Ney. Other participants shared their writings and thoughts.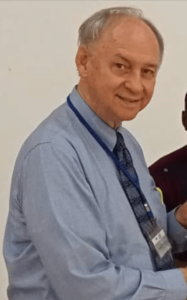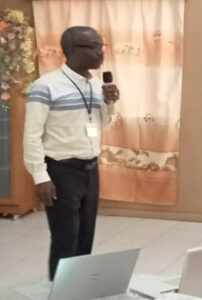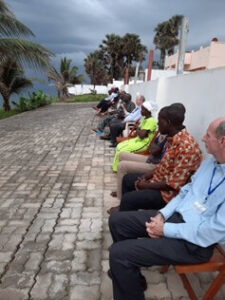 Spiritual formation: The atmosphere at the Retreat Center was spiritually elevating. The first day ended with a meditation session as we sat in a row in silence, facing the Atlantic Ocean and reflecting on the awesome presence of God. We had worship sessions and inspiring devotional messages every morning.
Social Interaction: This was the first time Francophone and Anglophone Christian scholars held a joint conference. The language barrier notwithstanding, there was a high level of interaction between sessions. On the last day, we took a bus ride to a beach resort called Poco Loco in Senegambia. Social ties were solidified as we shared a buffet dinner on the beach, went horseback reading, walked along the beach, and listened to traditional music.
God is willing and able to do all things, but he needs human agents to have the courage to act. Through this conference, I saw how God has used ordinary people like us to do extraordinary things.
Dr. Alexander Timothy from the University of Calabar, Nigeria, summed up his experience in this way: "The unique feature of the conference was not the unification of Christian scholars from Anglophone and Francophone countries. It wasn't the pool of scholars from a wide spectrum of disciplines ranging from administration to medicine. It was also not the location of the conference in the serene and edenic splendor of the Senegambian resort, ensconced in a dense foliage of brilliantly coloured flowers, overlooking the Atlantic Ocean. Rather, the unique feature of this conference was that although it was an academic gathering where scholarly papers and presentations received critical but intellectually honest peer reviews, the overarching ambience was spiritual as evidenced by the palpable presence of God."
 Prof. Osam Edim Temple
Executive Committee Chair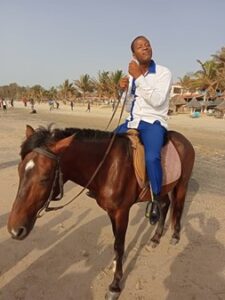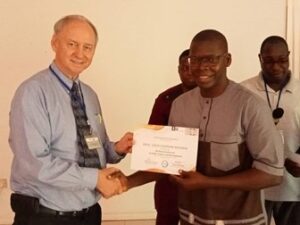 Gambian chapter of the Society Inaugurates an Executive Committee
After the Society's July conference in the Gambia, a national chapter was established in the host country, with an eight-member National Executive Committee under the leadership of Andrew Mendy of the University of The Gambia. The committee was officially inaugurated by the Society's Executive Chair, Prof. Osam Temple, at the monthly Africa-wide Zoom meeting on 30 July 2021.
During the inauguration, Prof. Temple led the newly elected members of the Gambian executive committee to raise their right hands and pledge to "uphold and promote the highest standards of professionalism, excellence and Christ-likeness." He advised the officers to consider this responsibility as a call to ministry, emphasizing that God wants to use scholars to reach the world.
The Gambia thus becomes the second nation with a country-level chapter of the Society, following Nigeria. The Executive Committee members and their titles are as follows:
Andrew P. Mendy, President
Vera Labor, Vice President
Shaka J. Ashcroft, Secretary
Francis A. J. Moseray, Director of Finance
James Gomez, Director of Information and Media
Ozirigbo Benjamin, Director of Conferences
Lawrence Gomez, Director of Ethics and Spiritual Development
Umaru Tanimu Saminaka, Director of Mentorship and Scholars Development- Dr Umaru  Tanimu Saminaka
Please join us in congratulating this team and praying for them.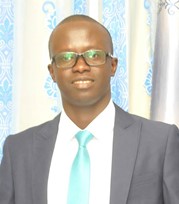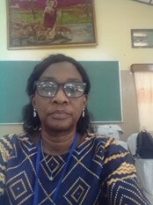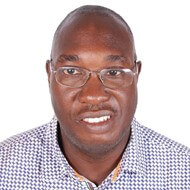 Society Updates and Opportunities
Call for Book Reviewers: If you would like to write a 1,000-word review on one of the following books, please contact Dr. Stephen Garrett (sgarrett@global-scholars.org) for further details. Reviews will be highlighted and published in a special section of our Society member site.
Did You Know … that the "Theology and Academy" section of the Society Library has resources related to the integration of faith and scholarship, the history of the university, the mission of God, and how to interpret Scripture? Check out these resources and more for your own edification or small group discussion!
Looking for a Place of Service in the Society? 
Would you like to curate high-quality resources made available to Society members through the Library? We're looking for someone with expertise in education, pedagogy, and related disciplines who would fill the role of library curator, evaluating resources for the "Pursuing Vocational Excellence" section.
If you're interested, please send your CV to Dr. Stephen Garrett at sgarrett@SocietyofChristianScholars.org. 
Visiting Researcher Scholarship Program
The Institute for the Study of Freedom of Religion or Belief (ISFORB) invites visiting researchers to spend time at ETF Leuven (Belgium) and work on FORB-related research projects. Visiting researchers can make use of the excellent facilities at the Leuven Center for Christian Studies (see www.lccs.eu). The center also has a Visiting Researcher Scholarship Program designed for researchers who wish to spend three months at the Center in spring 2022.  Follow this link to find the application: https://form.jotform.com/211865958984477
One of the biggest struggles Christian scholars face is how to relate their faith to their research, especially in scientific fields. How can we live out our faith in a demanding, competitive research environment? How do our distinctive commitments as Christians affect our research practice? And can a dedication to scientific research actually strengthen our Christian faith?
On Thursday, 19 August 2021 at 1400 GMT/UTC, Dr. Kumiko 'Jean' Takeuchi, Japanese native, will share her life experiences as a scientific researcher for Eli Lilly and how her Christian commitments interfaced with her vocation, including her pursuit of two PhDs–one in chemistry in the USA and the other in theology and religion in the UK. Be sure to read her personal story, 'An American Dream from God's Perspective', published in Engaging Our World: Christian Worldview from the Ivory Tower to Global Impact (W&S Academic Press, 2008) for more details about her spiritual journey.
This will be an exciting opportunity to reflect on our own spiritual journeys and how God exercises our faith as we seek to grow in 'the grace and knowledge of our Lord Jesus Christ' (2 Pet 3:18). Register below to reserve your place.